ENA can go places with you...
NeoYou ENA, your New Companion.
Your compact, Office Diffuser, Car Diffuser, Travel Diffuser and Home Diffuser all in one.
RESTFUL SLEEP
When you travel, you're not sleeping in your own bed, which may inhibit your sleep pattern. You still need to get a restful night sleep. Diffusing Lavender and Chamomile oils with ENA gives the ability to have a nice peaceful and restful night sleep to awake refreshed to take-in what the new day has installed for you.
PURIFY THE HOTEL ROOM
When arriving at your hotel room the first thing you should do is purify the air in the room to remove any musty odours from previous guests. Use Ena to do this quickly and easily, you will be surprised how much area Ena can cover to refresh the room. While you sleep at night mist your favourite oils for that peaceful sleep to awaken refreshed.
CREATING YOUR ZEN
Being able to practice your yoga and meditation while on your travels is very important. So choose one of your favourite essential oils and Ena will diffuse it for you. Ena is so quiet that while you meditate you shouldn't be able to hear her only the water trecaling. With Ena diffusing your essential oil this will take your meditation to the next level.
MIST YOUR FAVOURITE OIL
Start your everyday morning commute with a high positive experience. A drop of Peppermint and Wild Orange oil can make you smile for the rest of the day.
PURIFY THE COCKPIT
While commuting on a short trip or on long road trips ENA will diffuse your favorite essential oil to purify and refresh the cabin while setting the mood for your journey.
PURIFY THE COCKPIT
While commuting on a short trip or on long road trips ENA will diffuse your favourite essential oil to purify and refresh the cabin while setting the mood for your journey.
WELCOME FRESHNESS AT HOME
Welcome guests into your home with a summertime fresh home. Lavender, lemon or lime and Spearmint are welcoming aromas to greet your guests when they arrive at the door.
AWAKEN THE HAPPY YOU
Need a rev up in the mornings. Why not mist a stimulated morning blend to get you bouncing out of bed, up and going. Stimulate your morning yourtful you.
ALLERGIES AT HOME
Regardless of what season it may be allergies can make life miserable around the home. ENA with an allergy killer blend can assist with clearing the air for all to breath better.
CUSTOMER LASTING IMPRESSIONS
Use ENA to mist your signature office blend. Leave a lasting impression with your clients and customers as they first arrive at your office door. ENA will silently work away intermittently for 6 hours.
OFFICE SICKNESS
Sickness can run through an office quickly. Use ENA with an immunity blend to increase everyone's immunity and decrease employees sickness which leads to less sick days.
OFFICE ODORS
Reduce the office odours with refreshing summer love. Simple materials like cardboard produce an odor which can be annoying to some so why not freshen up the workspace with your own blend or company signature fragrance.
ENA SPECIFICATIONS
Ultrasonic Aromatherapy Diffuser
Ultrasonic Transducer Vibrating at a Frequency of 2.4 Million times Per Second.
MIST AMOUNT
Mist at 8ml per hour. Molecules of water and oil so tiny, easily absorbed into the body.
water Tank capacity
ENA holds 40ml in the water tank.
automatic switch off
ENA will automatically switch off when the reservoir tank is empty and the Light Emitting Diode (LED) switches off.
misting times
ENA mists on continuous mode for 3 Hours and for 6 hours at 30 second intervals.
power voltage
ENA operates, Input AC 100-240V 50/60 Hz: Output DC5V 1.0A
decibel level
ENA operates at an indicative range of <30dB (Decibels).
night and light mode
ENA has 7 colour changing Light Emitting Diode (LED). Night mode is set at any of these colours.
ENA Dimensions
ENA is 120mm in Hight by 85mm in Depth.
For further specification, please view ENA Instruction Manual.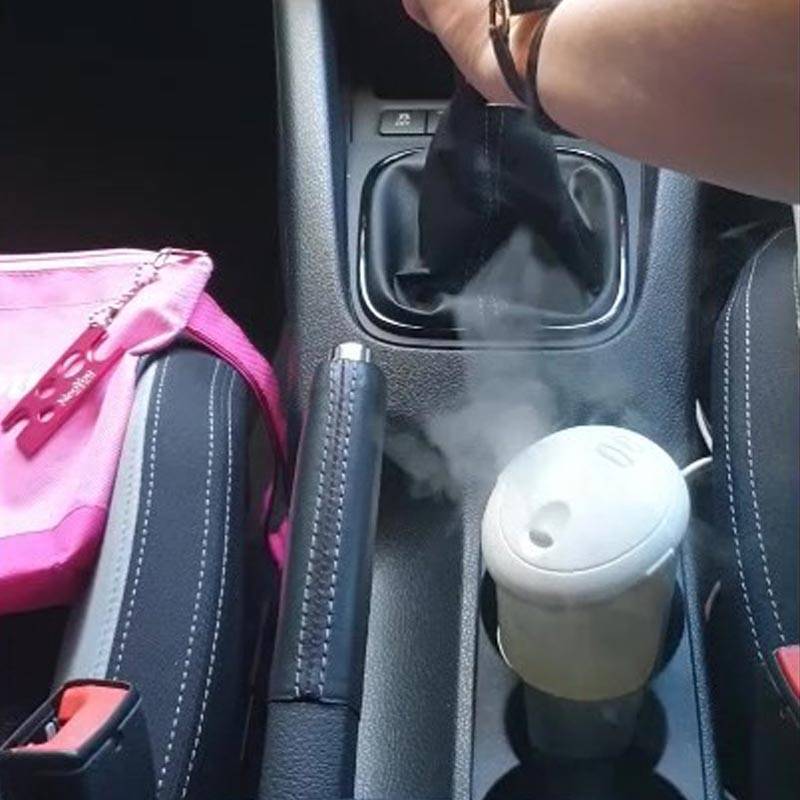 ENA car diffuser
ENA designed to suit majority cup holders for Car, Caravan or Boat.
As long as there is a USB connection for ENA to plug into you are good to go.
shop now